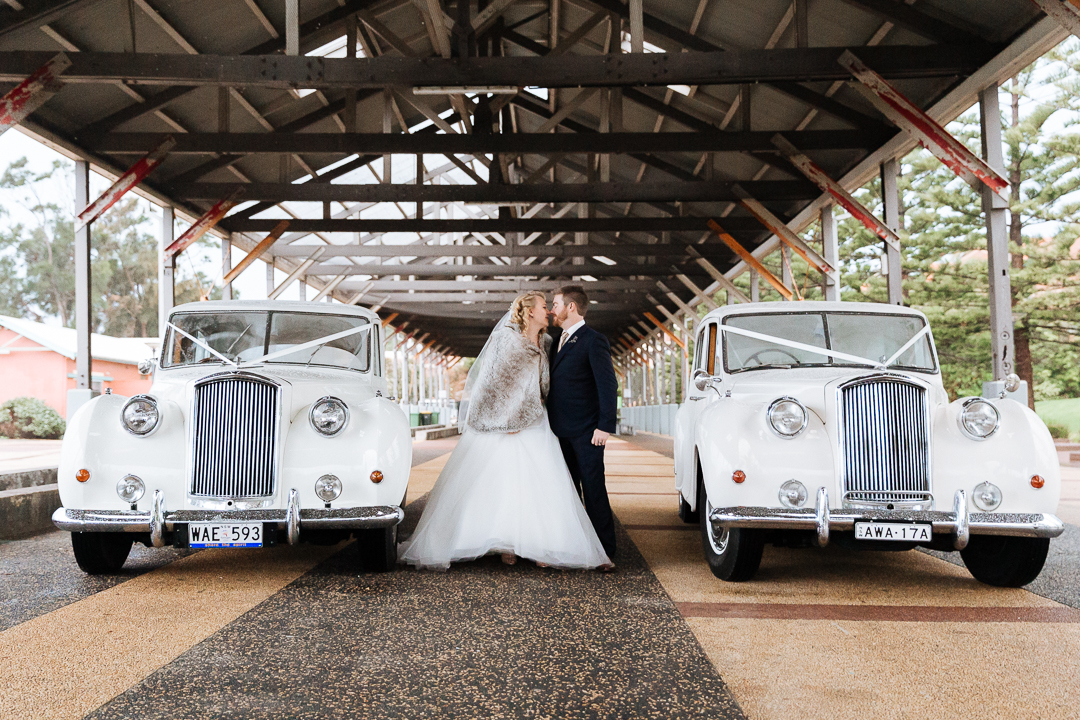 Julie & Scott were married on the what was the rainiest day of the year. The words 'torrential rain event' was used in every news story leading up to the big day. And as the day arrived, it was exactly that – torrential rain (that we desperately needed).

A first look! Before the ceremony Julie & Scott had a first look, this is something very common overseas, but not as much in Australia. It is a beautiful way to take a little bit of the pressure off and check-in with each other before walking down the aisle – I loved it!!

After the ceremony, we found lots of sheltered photography options. With our first stop and round of cocktails at The Blink Monk in Hamilton. The bridal party had a ball as we traveled around Newcastle in the 1960's classic princess limousines, famous for transporting royalty and the Beatles – and now Julie and Scott!!

One of my favourite moments during the reception was when Julie popped out for a little while and reappeared in a new dress – her dancing dress with a gorgeous full circle skirt, I love love it!! And you could tell she did as well as she spun and danced all night … such a fun wedding!!
Congratulations you two, we wish all the happiness in the world together 🙂 
Melissa & Don xox
Photography: Left of The Middle Photography
Ceremony & Reception: Merewether Surfhouse
Transport: Absolute Vintage
Hairstylist: The Hair Studio, Gunnedah
Makeup Artist: Stef Matheson
Event Planner: Exotic Lily Events
Entertainment: Mane Events
Cake: Bec's Cake Creations
Celebrant: Monty King
Not long till the next blog, see you again soon!